#Walkmyworld works best when you help make our world. If you are ready to move beyond Twitter we suggest you try blogging or building a teacher website. You need to tell your story and the best way to do this is to create a digital hub.  The Web works best when it is owned by the users. One of the first steps in shaping your digital idenity is to design a space where you own your content and then push this content out on social media channels such as Twitter.
This allows us to share and curate your walks with others. More importantly by building a website or blog you begin to define the future of the Web.
We encourage #WalkMyWorld participants who have never built a website or blog to try one of three tools: Known, WordPress.com, or Medium.
This tutorial will cover:
Installation of each of the three recommended tools;
Using Known
Known, is an open source website platform. They offer free sites that have many great features. Known is also committed to serving the education community. If you are interested in hosting the fully featured version they offer a 40% educator discount ($6 a month).
Create an Account
If you want to create a free account visit here.
Choose a site address. This is your url that people type into the browser.
Choose your site name. This will appear in the tab on your browser.
Create a profile
Add an image to your portfolio
Type a bio
Enter a link to your Twitter account.
Overview of your Known Site
Once you've signed in, you'll be viewing your site's main stream of content. From this page you can view your site's stream, publish new content, or search for previously published things.
A. Status Updates: Quick posts that you can syndicate to Twitter. You can only include hyperlinks.
B. Post: Full posts that allow formatting,
C. Photo: Share and syndicate photos.
D. Location Updates: If you are a foursquare user you can use Known in similar way to share location updates.
E. Bookmarks: Ever wanted one place to collect and share all your bookmarks?
F. Audio: Want to be the next podcast star? Do it easily with Known.
G. Pull Down menu: Change the settings and site configurations.
H. Friendly Bot: Feel free to dismiss.
(note free accounts come with a 3 gb maximum size limit)
Site Configuration
The Site Configuration section is only available to administrative users of your website. If you're not an author with admin rights to the site, you won't be able to see Site Configuration in the navigation when you sign in.
On the main page, you can make basic adjustments to your site, like changing the site name and site description.
To adjust the number of published updates that are displayed on each page of your stream, change the number for "items per page."
If you want others to be able to sign up freely as site authors, you can turn on registration for your site. This is turned off by default. Once on, anyone will see a "register" link when they visit the site. With this link, they can sign up as a new user.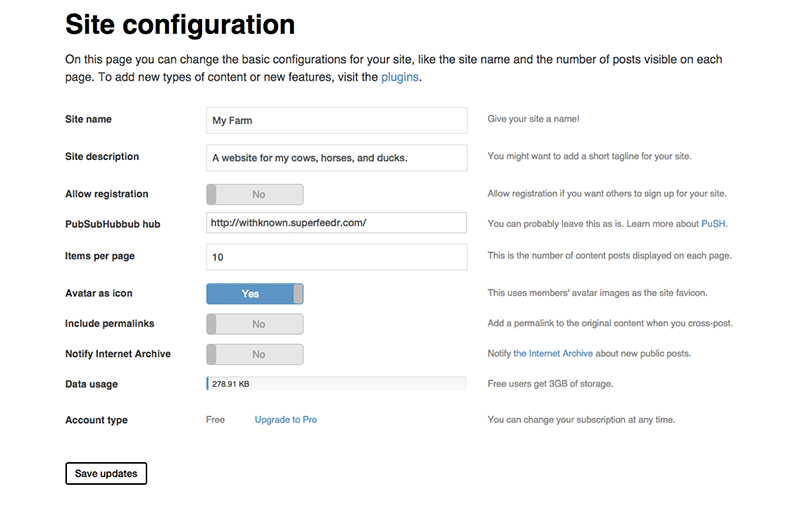 Turn on plugins
The "Plugins" section lets you turn on or off plugins that are included with Known. Plugins are small modules of software that add extra functionality to the core Known platform. Some plugins are turned on by default when you create your site. These include the content types that you see at the top of your home stream when you sign in.
You can enable a plugin by turning on the button next to it in the plugins list. Repeat to disable the plugin if you want to turn it off. Plugins that say "labs" in the description are experimental alpha versions and may not contain full features.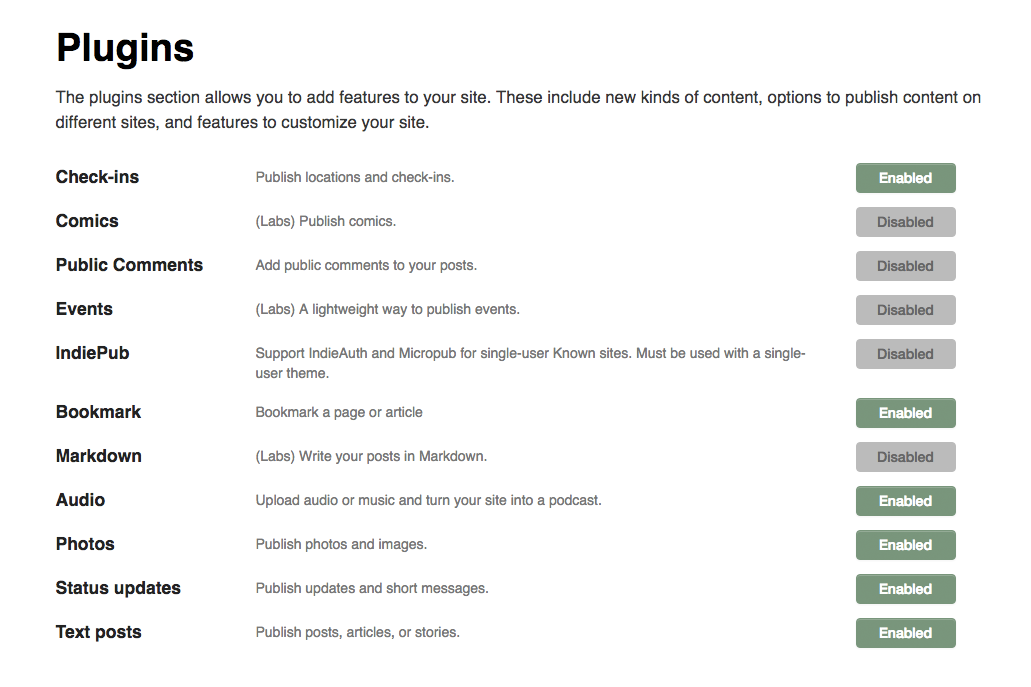 Change the theme
The "Themes" section allows you to change the way your site looks. Themes potentially include different layouts, colors, and fonts that are applied to the appearance of your site. To use a specific theme for your site, click the "enable" button by that theme. The style will then be applied to your site. Some themes include their own settings to further customize the appearance of the site.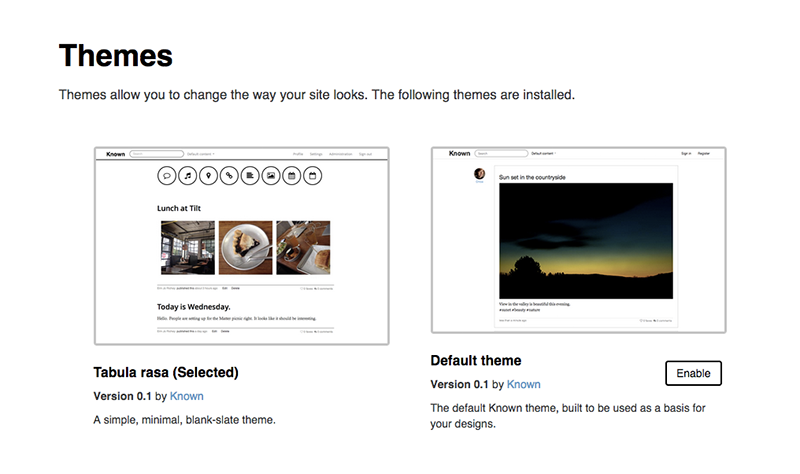 Connect Services
Known allows you to syndicate your posts to different social media accounts. As a #WalkMyWorld member you may want to connect your site to Twitter.
1.Click on the drop down menu in the upper left cornet.
2. Click on Site Settings.
3. Click on Connect Services.
4. Choose Twitter. If you are signed into Twitter the account will authorize. You can then choose to publish to Twitter every time you publish to your Known site. If you post is over 140 characters Known will just display the first bit or title as a lede with a link to the entire post.
Publishing posts

Posts are a great way to publish an essay or a blog article. Posts let you publish longer pieces of content, and you can embed media like YouTube videos or audio clips from SoundCloud into posts.
By default, there are two views for typing your post, the rich text view and the plain text view.
Using the rich text editor

The rich text editor – also known as a WYSIWYG editor (for What You See Is What You Get) – provides a formatting toolbar for your writing.
Formatting
The "Formats" dropdown gives you most of the options for formatting your text, including inserting different types of headers, changing inline text styles between bold, italic, underline, etc, and changing the alignment of text. You can also find options for some of these, including bold text, italic text, blockquotes, and alignment options as icons in the format bar.
Inserting
To insert a link into your post, select the icon that looks like a link. This will open up a window where you can paste in your URL and write out the text for the link. If you'd like to upload an image into your post, select the image icon in the format bar. This will open up a window with a "source" field. Selecting the file search icon will let you find the image file on your computer and upload it to your post. You can also add an image alt description and set the image size here.
Using the plain text editor
With the plain text editor, you can write your post and include HTML for the formatting. You may want to type your content out in your favorite text editing software and then paste the content into the post field, or you can write directly into the post box. Note that there isn't a way to directly upload images into the post through the plain text editor.
If you want to learn more about Known check out their tutorial. Much of the content in this page was remixed from there.
Using Medium
Medium is a great blogging platform for those more interested in a clean and crisp writing environment. Medium also acts as a social network of authors and readers. Most importantly they allow users to own their own data, freely export it whenever, and syndicate to and from Medium. It is a great place for a new blogger.
Using WordPress.Com
WordPress.com is the shared hosting version of WordPress. Much of the Web runs on WordPress sites and you can use the free version to get started.
Getting Started
First visit the WordPress.com site for creating a new blog.
You will add a URL and an email address. Once you choose your password you can get started.

Next customize your blog. You can select themes and add header images.
Publishing your First Post
Say hello to the world. Any hesitations you may have and In a post tell us why you joined #WalkMyWorld and what you hope to learn. Share the post on Twitter using the #WalkMyWorld hashtag.
Syndicating through RSS
We will use RSS to create a public feed of all blogs involved in #WalkMyWorldd. If you would like your blog added use this form.